Red "SuperPolymer", a cut above the rest
---
Oz Seals Australia has formulated a material that is designed to outlast even your manufacturing equipment.
Oz Seals Red "SuperPolymer" seal, combines many of the advantages of rigid plastics, metals and ceramics but has the extensibility of rubber.
The Research and Development team at Oz Seals designed the "SuperPolymer" for high-performance polymer has polyether based lubricants.
Various components are incorporated into the Oz Red "SuperPolymer" to ensure low friction at high reciprocating speeds and resistance to high operating temperatures.
The innovative design by Oz Seals was designed especially for demanding applications such as special hydraulic applications and standard hydraulic applications.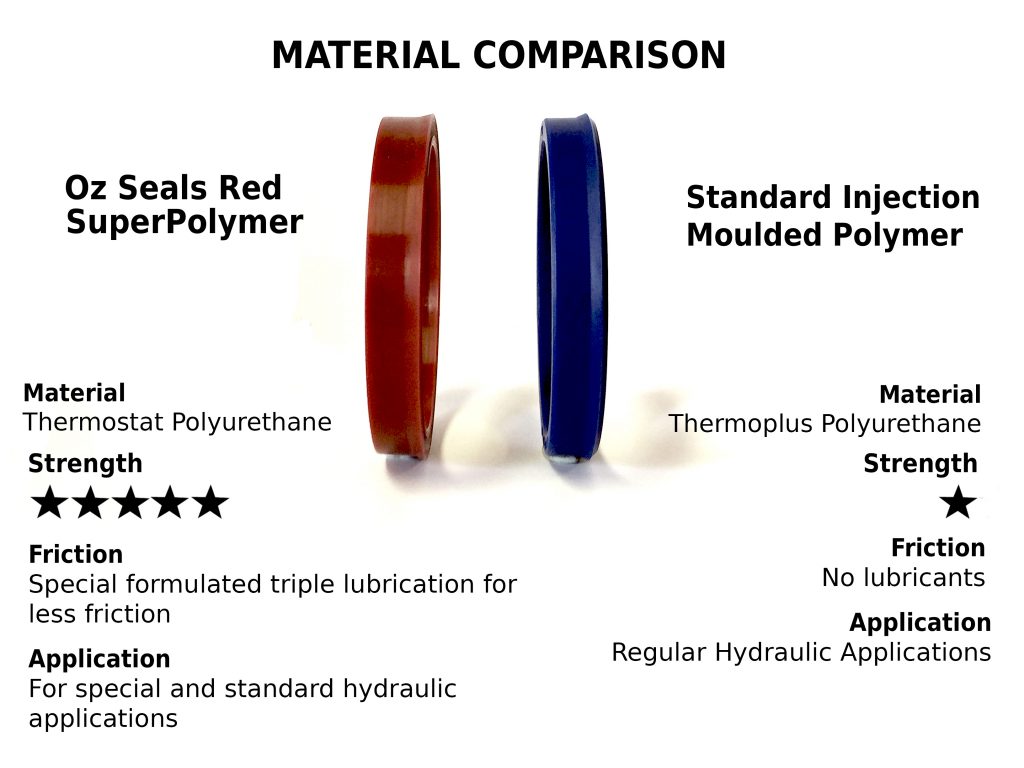 Comparison between Oz Seals SuperPolymer and a standard polymer seal
In addition to high load bearing properties in both tension and compression, Oz Red "SuperPolymer" has a high load bearing capacity in shear. Even at high hardness levels, the Oz "SuperPolymer" has significantly better resistance than plastics.
With the combination of high-performance urethane, the Oz Red "SuperPolymer" is also made suitable for all applications such as wipers, pistons seals, rod seals, rotary seals, O-rings and gaskets.
The Oz Seals Red "SuperPolymer" comes in a wide range of sizes and is listed under Sealnet, Oz Seals online store. Just like all our product seal range, you can get a custom size for the Oz Red "SuperPolymer" which is machined upon request.